Wood-burning fireplaces have been at the center of family gatherings for centuries and nothing compares to the ambiance of a roaring wood fire on a cold winter evening. If you enjoy the labor of love with tending a fire and the memories it evokes, then a wood-burning fireplace is for you.
Wood-burning fireplaces fall in to two main categories: traditional open-hearth models that are used for recreational burning and high-efficiency wood-burning fireplaces that are EPA compliant. High-efficiency fireplaces are designed for constant use as a supplemental heat source for your home.
Most wood-burning fireplaces today are offered in a standard front-open configuration only. With today's focus on tighter, energy-efficient construction, configurations such as see-through and multi-sided openings tend to perform poorly and can spill smoke into your home. Consider a direct vent gas fireplace if one of these opening styles is what you are looking for.
WOOD FIREPLACE DESIGN TYPES
Open-Hearth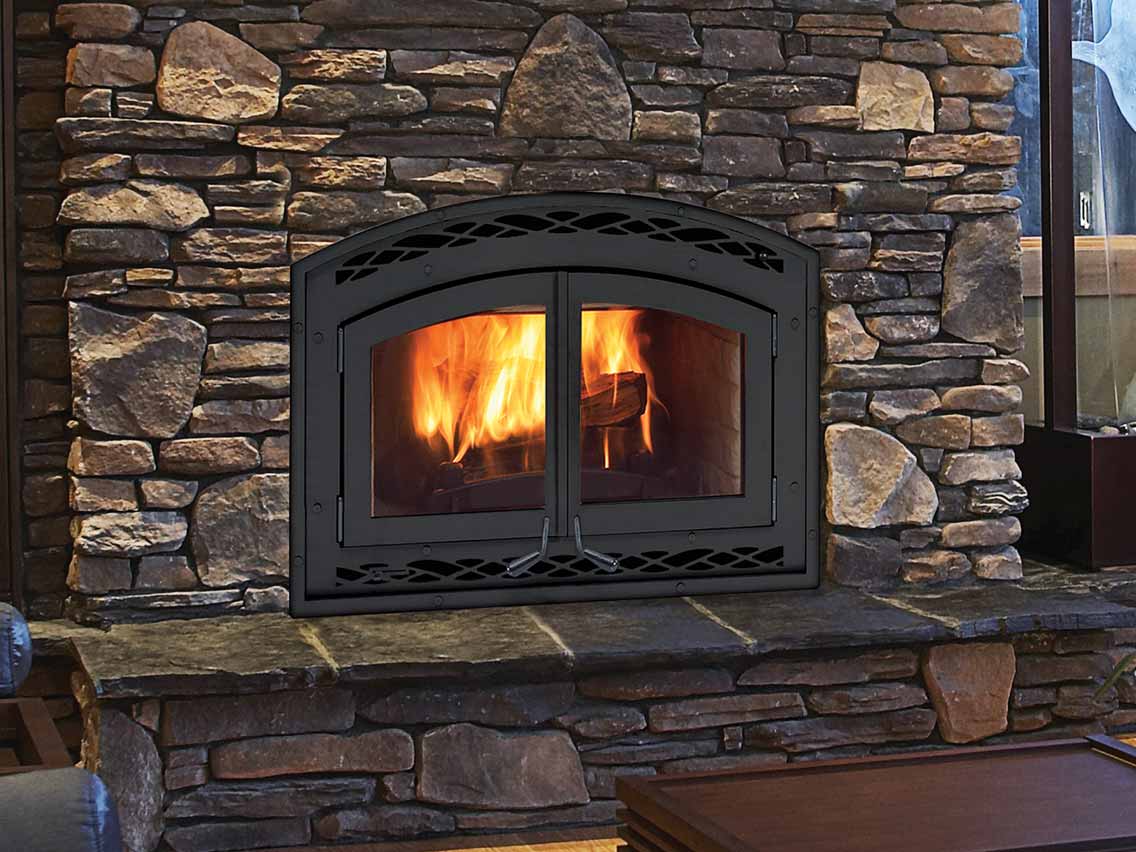 High-Efficiency
WOOD FIREPLACE INTERIOR LINER STYLES
Solid Poured Refractory Panels
Kiln-fired Firebrick & Mortared Joints
TRADITIONAL WOOD-BURNING FIREPLACES
Today's factory-built wood-burning fireplaces offer the look and feel of a traditional masonry-constructed fireplace at a much lower installed cost. These traditional wood-burning fireplaces are designed to be installed in regular wood-framed construction. They use a design-engineered air-cooled chimney that vents vertically through the roofline or chase enclosure. Grates and mesh spark screens are standard with glass door and outside air kit options available to reduce the amount of room air that is drawn out of your living area.
Traditional Wood-Burning Fireplace Features
Available in traditional open-hearth models in a variety of sizes
Front-open style with mesh spark screens and wood-burning grate
Air-cooled, natural-draft chimney systems for vertical installation through roofline
Used for recreational burning due to low, less than 10% heating efficiency
Glass doors and outside air kit options are available to reduce heat loss
Gas line knockouts are provided to support optional gas log liters or gas log sets
A variety of poured refractory or "kiln-fired" firebrick interior liner options are available
HIGH-EFFICIENCY WOOD-BURNING FIREPLACES
High-efficiency wood-burning fireplaces don't just look beautiful. They're also powerful heating appliances that are EPA certified. This means they undergo rigorous testing and meet or exceed stringent emissions limits to ensure efficient and responsible wood burning. Look for variable-rate control models that allow you to regulate wood usage. This allows you to enjoy the fire longer and put more heat into your home, not up the chimney. Blower kits and heat duct kits are available to help distribute the heat to multiple living areas.
High-Efficiency Wood-Burning Fireplace Features
Available in traditional and modern design styles in a variety of sizes
Circulating design and ceramic glass offer optimal heat transfer
Gasket-sealed doors and primary air combustion control for efficient burning
Advanced combustion systems provide secondary air for more complete burns and heat
High-temperature, natural-draft chimney systems for vertical installation through roofline
60% to 75% heat-efficient models with high BTU output offer superb zone heating capabilities
Radiant heat, warm air circulation and optional ducted air kits offer balanced comfort
Find the Right Astria Wood-Burning Fireplace for Your Home
Now that you have a better idea of the wood-burning fireplace type that best fits your needs, visit our Wood Fireplaces product catalog to select the perfect fireplace and accessories. Already know what you are looking for? Then visit our Where to Buy locator and find one of our helpful hearth professionals in your area.